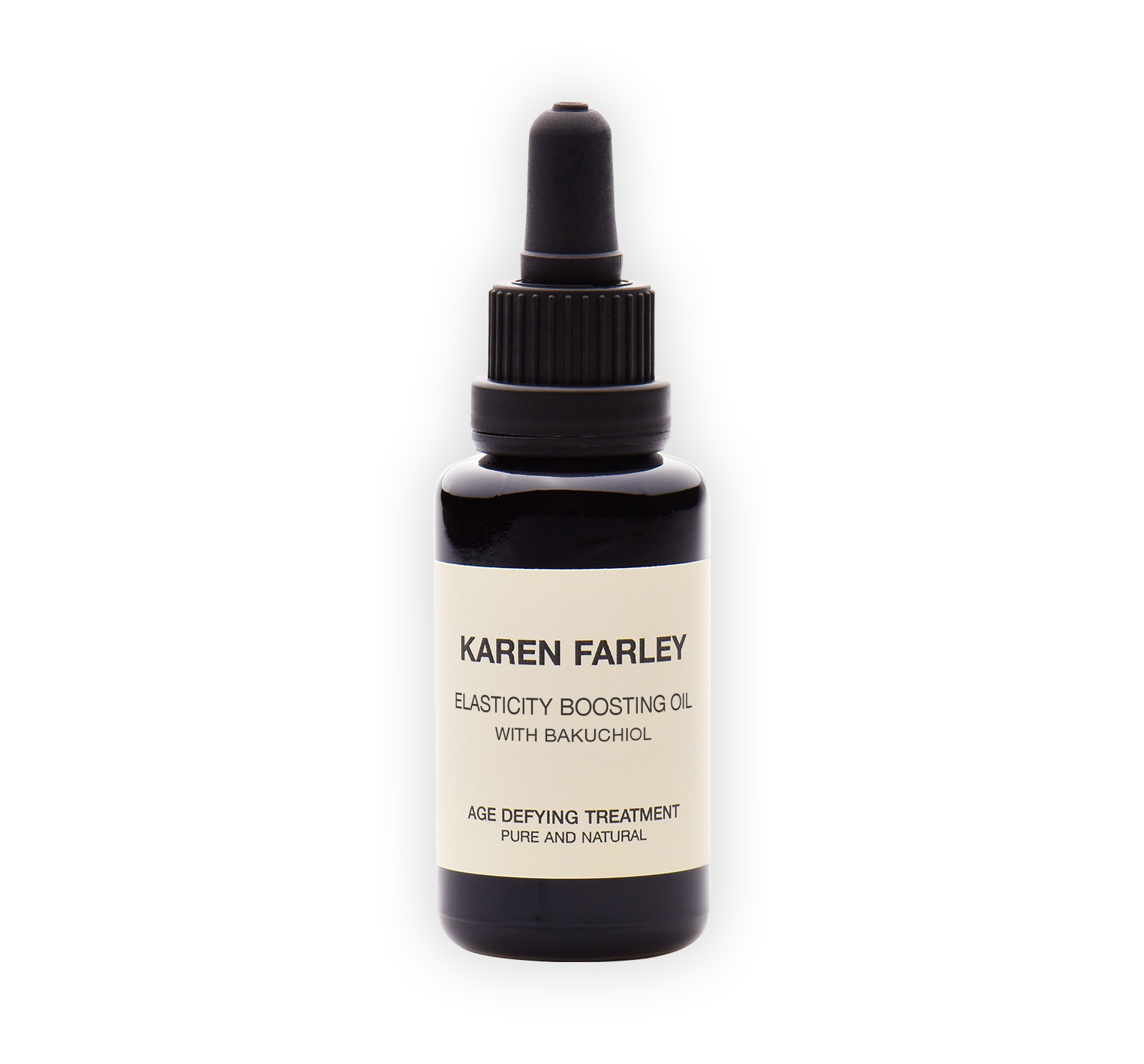 About Product
---
Description
A blend of Argan, Hibiscus, Rosehip, Peach and Grapeseed oils with secret ingredient Bakuchiol, an effective natural alternative to the synthetically derived Retinol, scientifically shown to improve skin elasticity. Synergistically blended and scented with a hint of passionfruit and lime essential oil. This naturally supercharged product boosts elastin and brings bounce back to your skin.
How and when to use
Either use 3 or 4 drops, gently sweeping over your face and neck with your fingers after moisturising. Or simply add 3 or 4 drops to your moisturiser or night cream and apply them together. Take time to relax and enjoy the moment your skin is revived and nourished by this potent elasticity boosting oil. Use morning and night.
Benefits
---
- exceptionally high in actives vital for skin elasticity and cell renewal
- absorbs easily and penetrates deeply
- helps improve skin radiance
- helps reduce appearance of lines and wrinkles
- leaves skin feeling silky smooth.
Customer Comments
---
NEW PRODUCT - Submit you product testimonials to mygift@karenfarley.com for a chance to feature here.
Hero Ingredients
---
Bakuchiol
This natural alternative to Retinol is extracted from the leaves and seeds of the babchi plant, but does not have Retinol's negative harsh, drying effects. Bakuchiol is a potent antioxidant that has been clinically shown to reduce multiple signs of ageing including improving skin elasticity and cell renewal.
Hibiscus
Extracted from the seeds of the hibiscus flower, this fast absorbing oil delivers a rich cocktail of essential fatty acids, Vitamin E, flavonoids and carotenoids deep into your skin. One of its superpowers is its capacity to inhibit the activity of elastase, the enzyme responsible for breaking down our skin's elastin. It is renowned for lifting and firming the skin by increasing skin elasticity and stimulates cell renewal for a smoother complexion.
All ingredients
peach kernel oil; passionfruit seed oil; argan oil*; hibiscus seed oil*; grape seed oil*; rosehip oil*; bakuchiol; lime (steam distilled) and rose geranium essential oils; vit E (*organic)
Recommended with
click to enter promo code